| | |
| --- | --- |
| IRIS SYSTEM | |


IRIS SYSTEMS Art. 72162HD + Art.72163

Iris reflectographic systems are portable infrared visual instruments using a CCD as a sensitive element with a spectrum response up to 1100 nm. The image (reflectogramme) is displayed on a system monitor. IRIS systems are provided with 3 interchangeable filters, which are connected to the back zoom lens allowing the calibration of the recording of the different paint layers and retouchings in cronological succession. On account of their higher sensitivity (0.2 lux), IRIS Systems do not need infrared illuminators but sunlight. A special video output allows the transfer of the image to an external monitor, and therefore the recording, print, digitalisation, processing (e.g.to obtain a reflectographic image in "wrong colours") and storage of the image on a computer.
Portable reflectographic system composed of:
- a high resolution videocamera with the following specifications:
Sensor CCD 1/2"
Pixel nr. 752 (H) x 582 (S)
Horizontal resolution >550 lines
Vertical resolution 625 lines
Frequency 15.625 kHz
- Connection for tripod
- zoom lens 12.5-75 mm
- 3 infrared filters 715-850-1000 nm
- 8" monitor -resolution 625 lines
- battery charger and rechargeable accumulator included that
operates for 2 user hours
- power supply output for connection to mains and accumulator recharging
- monitor-videocamera connection output
- adjustable videocamera tripod
- rigid box with special partitions size: 21x46x 37 (h) cm.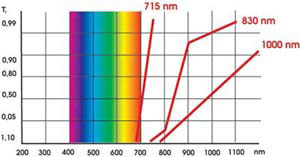 IRIS FILTERS


1) 715 nm
2) 830 nm
3) 1000 nm
VISIBLE BAND





IRIS HD Art. 72162HD
IRIS CONTROLLER UNIT Art. 72163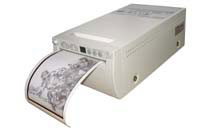 VIDEOPRINTER B/W Art. 72156