How to reach us

By Underground
Villa S. Giovanni stop
line 1 Red diretion Sesto
Proceed all via Vipacco until via Breda and turn on the left.

Bus - Train
Bus stop Breda Vipacco
line 81
Central Station FS right side (via Sammartini) direction Sesto Marelli.

By Car
Gps: 45.51811°N - 9.22072°E
From viale Monza
Turn in via Sant'Uguzzone, turn on the left in via Fortezza and on the right in via Galeno continue until via Breda and turn on the left.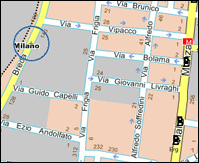 address
via Breda 142 - 20126 Milano

telephone
+39 02 27002121

fax
+39 02 2576184

e-mail





Opening time
from monday to friday
9.00-12.30 am / 02.00-05.30 pm



Bresciani s.r.l.
is an UNI EN ISO 9001:2008 certified company


Distribution
distributed trademarks and retailers
Online customer service
In order to obtain technical or product information there is an appropriate section inside the user's area. In order to enter there it's necessary create an account.
technical informations
laboratories/equipments: Vittorio Bresciani
chemistry-materials-laser: Alessandro Svinzov
museum/environment: Valerio Bresciani
commercial informations
responsible: Patrizia
paper and photographic conservation
responsible: Vittorio Bresciani
quality management system
responsible: Valerio Bresciani
Skype

download the free software from www.skype.it
Google map - Google Earth

map

File Google Earth: sede.kml