| | |
| --- | --- |
| | |
| Museum of Ancient Art of Bagdad | PRINT |


Analysis and Archaeological laboratories

Anno 2004

The archaeological Museum of Bagdad is the greatest museum of the Middle East, one of richest and interesting of the world. In the Institute testimonies of the numerous civilizations were conserved that, beginning from the tenth millenium b.c., are succedute in Mesopotamia. Jewels, sculptures, bas-reliefs, objects of daily use from prehistory to the civilizations of the sumeri, the Babylonian, the Assyrians and that Arab of the hatra: beyond two hundred thousand reperti considered the treasures of the "earth between the two rivers" it rocks of many civilizations. Reperti considered from expert a patrimony of inestimabile value. The Museum, in spite of graves reinforced in the structure so that it put up with better the strafings, quickly has equally the consequences of the war, but above all it has quickly vandalici pillages that have carried to the disappearance or the destruction of numerous works of art.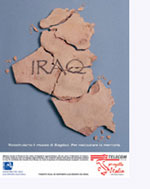 ITALY PLAN WITH THE MINISTRY FOR THE CULTURAL ASSETS IN ORDER TO CONTRIBUTE TO AL RESTORATION OF THE BAGDAD MUSEUM
"Milan, 1 March 2004 - the intense activities of restoration of the Museum of Bagdad Will leave also thanks to the contribution of Plan Italy di Telecom Italia, one of the more important archaeological sites of the world orrendamente destroyed and plundered during the last war in Iraq. In fact, thanks to the agreement with the Ministry for the Cultural Assets and to the Soprintendenza for the Archaeological Assets of Rome, Telecom Italia has contributed to the operation with the proceeds proceeds slid May 2003 from the auction of tickets for the concert to the Colosseo di Paul McCartney. An example of as music can be vehicle of peace values, than comes abreast to an other supported musical event from Telecom Italia: "The Ways of the friendship", the traditional concert of closing of the Ravenna Festival directed from Master Riccardo Muti who every year carries out in places symbol for the peace in the world like New York post 11 september, Sarajevo and Jerusalem. With the proceeds of the concert to the Colosseo the necessary equipments to the preparation to Bagdad of the Laboratory of Restoration are acquired that today will come correspondents in Iraq. The laboratory will receive archeologi and coming technicians from all the world, that by they will quickly be engaged in the difficult recovered task to recently bring back to the original state the reperti. The operation joins the Italian tradition in the field of the solidarity to the right recovery of art works, patrimony of the humanity. Own for these characteristics, is inserted in Italy Plan, with of initiatives realized from the Telecom Italia"